The Dodge Durango is the insane family SUV that you know you'd rather drive
What would happen if you took a minivan, and you put it on steroids?
Well, like with most things, Dodge was determined to find out. Hence, the birth of the three-row, seven-passenger crossover SUV that looks like it would be more at home at a bodybuilding competition than at a soccer game. But, that's the beauty of the Dodge Durango: it doesn't care about stereotypes, expectations, or what you "should" or "shouldn't" be driving.
All it cares about is taking you wherever you want to go, with a big smirk on its broad face and a cheeky "see ya later" vibe coming from its signature taillight bar.
A History of Attitude
Perhaps surprisingly, the Durango hasn't really changed that much in its lifetime--the newest model has a lot of similarities to the first model that we saw back in 1997. But, maybe that's not so surprising after all. Just look at the Charger, the Challenger, or even the recently-retired Dart; Dodge has a definitive fondness for first impressions, and more often than not, they double-down on designs year over year. In fact, the Durango hasn't had a significant redesign since 2011. For other brands, that would be an issue, but Dodge has such a genuine--if cocky--approach to styling and outfitting, that committing to a "look" just works for their lineup.
The first two generations of Durango SUVs were based on the body-on-frame platform that we saw on the Dakota compact pickup truck. This gave it plenty of strength and muscle, but delivered what some might call a bone-jarring ride. Hey, it was the 90's--pickup trucks and big SUVs were reserved for people who actually used them, so they didn't need to be all that comfortable.
It all changed, though, with the introduction of the third-generation Dodge Durango, which switched over to a unibody platform based on the increasingly-popular Grand Cherokee SUV (a sibling under the parent company) around 2011. This swap allowed Dodge to get a lot more competitive against a wider range of rivals, with a more carlike ride quality, better fuel economy, and a more premium feel. Suddenly, the Durango was selling with new markets: families and adventurous singles with some cash.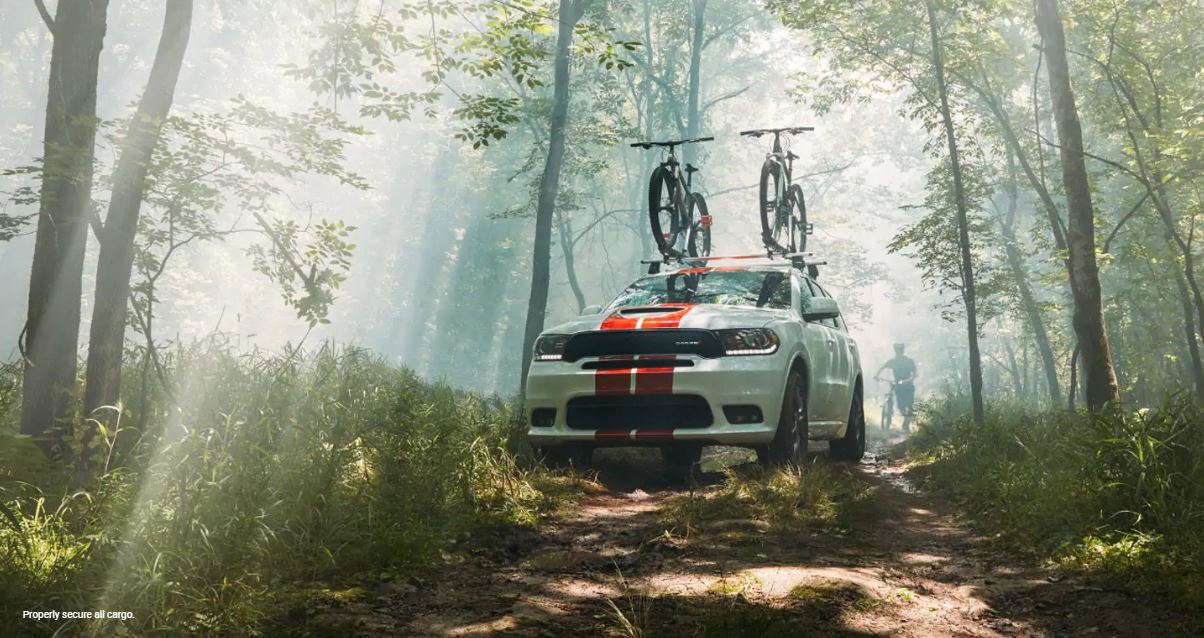 Powerful performance with up to 475 horsepower
In the new Durango lineup, the first three trim levels--those mostly like to be purchased by the average driver or family--are the SXT, GT, and Citadel. Each is fairly well-equipped, and each delivers power through a 3.6-liter V6 engine paired to an eight-speed automatic, together good for 293 horsepower and 260 pound-feet of torque. Now, nearly 300 horsepower is plenty to get this big boy moving, so if you're hoping for decent fuel economy on your daily commute and weekend runarounds, you can get where you're going and still have a pretty good time.
But--if you're wondering why the title of this review includes the phrase "insane family SUV"--the Durango doesn't just stop there, like many of its family-oriented three-row SUV classmates do. No, this is Dodge. And when Dodge makes a seven-seater crossover, it follows the old adage of "Go big. Or go home." That's why interested parties can also shop performance features in the Durango R/T, a sport-tuned trim level that offers a standard 5.7-liter V8 engine, good for 360 horsepower and 390 pound-feet of torque. If you don't want extras (like an upgraded steering system, a sport-tuned suspension, a performance hood design, LED foglights, and red accent stitching), this engine option is available on the one-tier-down Citadel model.
Or, you could go even further in ruffling the feathers of the other parents on the PTA, or of your coworkers when it's your turn to drive the carpool, and choose the Durango SRT. Yes... there is a Durango SRT, and it is wild. You'll get 475 horsepower and 470 pound-feet of torque from a standard 6.4-liter V8 engine, which offers a 4.4-second acceleration from 0 to 60, offers standard All-Wheel Drive (an option on the rest of the lineup), and it can tow up to 8,600 pounds. It'll cost you a pretty penny, but your purchase does include a driving lesson at the SRT Track Experience at Bondurant Racing School in Arizona.
Dodge Durango Exterior
You might be taken aback when you first see the Dodge Durango--as the longest, tallest, and boldest SUV in its class, it makes a pretty imposing first impression. It toes the line between conventional three-row crossovers and the classic full-size SUV that's reserved for only the biggest families, or the wildest hobbyists. This makes it a particularly tempting option for shoppers who don't want to have to cram themselves and their stuff into what should be a midsize SUV but that finagled a third set of seats into the back, but also don't need quite as much space (and size) as you'll find in a full-size utility vehicle like the Ford Expedition or the Chevy Suburban. Sometimes, being right between two classes can make it hard to sell a car--that's not the case with the Durango. It's been swelling and gaining muscle since its inception back in the late 90s, and  Dodge has had no problem selling them.
Select trims offer exterior packages that customize the look of the Durango's powerful body--with options like Blacktop or Brass Monkey appearance packages, SRT performance design, and exclusive paint colors. The Durango was made to stand out, and it does it well.
Dodge Durango Interior
Dodge does a lot of things right on its Durango--front and rear passenger comfort included. While other competitors may offer slightly more total passenger space in the second and third rows, Dodge pays attention to you, and what you need, in a way that its rivals don't. Other SUVs may be comfortable enough, but do any of them let you feel like you're really piloting a sports car down some empty stretch of curving highway--even though you might have dogs, or baby seats, or a pile of lumber in the back?
From the sport steering wheel--with standard paddle shifters--to available accent stitching on premium leather seat upholstery, to push-button start and a large touchscreen infotainment system, to available trim-exclusive interior design features, the Durango is a bold standout in a class that's typically marked with demure styling and softer approaches to support. Standard interior features across the lineup include keyless ignition, three-zone climate control, and configurable rear seats; upgrade to higher trim levels for heated front- and second-row seats, heated steering wheel, leather/suede upholstery, a sunroof, ventilated front seats, and a multitude of power outlets.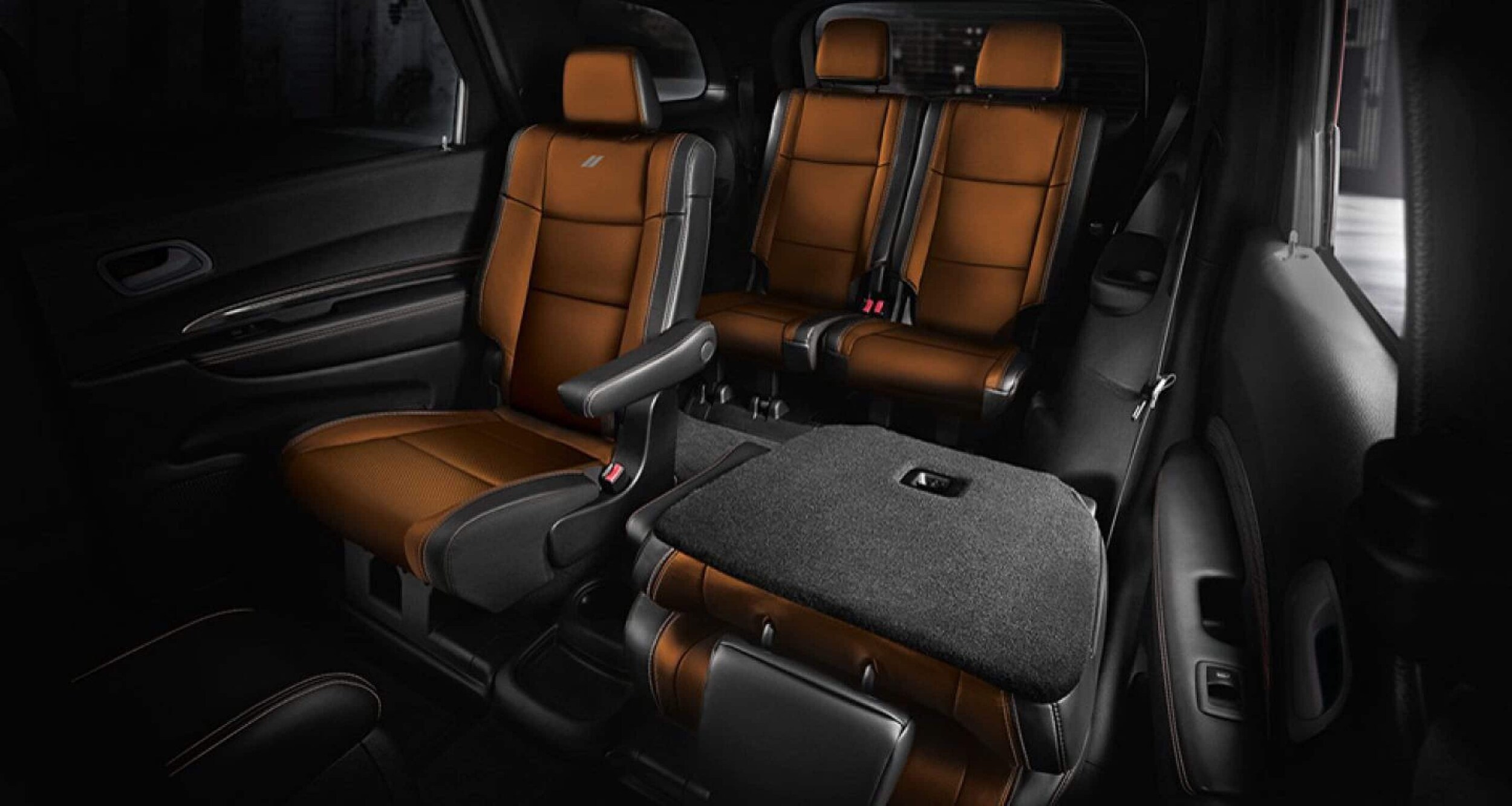 Cargo and seating capacities
Seating and cargo areas are another place where the Durango excels related to other three-row SUVs in the class. This model seats seven passengers as standard, though six-passenger seating is optional through the installation of ergonomic and sport-inspired second-row Captain's Chairs; this is a good option for shoppers without kids, or for smaller families with a few youngsters who will quickly outgrow sharing a bench with two of their siblings. If you're just buying a big SUV to have it, you can choose either--seating in both rows, including in the back, is appropriate for adults. Real adults.
If you know you're never going to be carrying more than five people, you can actually order a Durango SXT, sans the third row completely. That opens up rear cargo space a lot, and boosts total interior storage area.
The Dodge Durango can fit 17 cubic feet of cargo behind the third-row seats (not the most in its class, but definitely not the least), and a whopping 48 cubic feet of cargo behind the second row of seats. Fold both back rows flat, and get up to 85 cubic feet of storage area with a convenient loading floor. There's only one other technically-midsize SUV that can beat those numbers, putting the Durango comfortably in a leading spot.
Dodge Durango Safety
A little surprisingly, driver-assistance safety is one area where the Durango is a little lacking in standard features. You'll find a rearview camera, as well as front and rear parking sensors, on models like the GT and the Citadel, but you'll have to select some package options if you want the fancy stuff. A Technology Group Package adds adaptive cruise control, blind-spot monitoring with rear cross-traffic alert, a forward collision warning system with automatic braking, lane departure warning, and lane keeping assist, which is plenty for the cautious driver who feels like they need an extra set of eyes on the road (or a dozen) and blind-spot monitoring comes standard on a Safety/Security and Convenience Group package.
In conclusion...
If you're looking for a wallflower, look elsewhere. The Durango is big and bold; it's large and in-charge; it's loud and proud. It's a three-row SUV with an available V8 engine, that can howl and bellow with the best of sports cars while still calmly cruising around town to soothe a fussy baby to sleep.
It's the minivan-esque option for the driver who refuses to put the "settle" in "settle down".
Awards
Crossover of the year Award
The Rocky Mountain Automotive Press has named the 2018 Dodge Durango SRT the winner of its Crossover of the Year award. 
SUV of The Year
The 2018 Dodge Durango was honored with the NEMPA Official Winter SUV of the Year award.