The Long-Lasting Dodge Journey
Dodge takes pride in being able to make a vehicle that doesn't need many updates throughout the years, and the Dodge Journey is one that has lasted for nearly a decade. Even though its style has remained the same, it has been able to update to some of most advanced systems that allow it to provide impressive capabilities, but in such a way that keeps it as one of the most affordable vehicles in its class. Midsize crossovers are growing in popularity, and being able to maintain a price that is under $24,000 is a remarkable feat that the Journey holds proudly.
Pulling Off an Otherwise Generic Look
Many manufacturers would have updated the look of the Journey many times by now, but Dodge has kept the Journey looking the same since it was debuted in 2009. Strong lines, squared fascia, and bold look will make it the right model for anyone looking for a family vehicle.
When you are tired of the strange and odd aerodynamic designs, the Journey continues to provide its traditional design. If you are looking for a Dodge model, you clearly appreciate a strong design backed up by powerful performance, and the crosshair grille, bold fender flares, and a large rear window on a large hatch that opens widely to make loading a breeze.
All of the color options for the Journey are incredibly descriptive and unique - Vice White, Granite Pearl-Coat, Billet Clear-Coat, Redline, Olive Green, Contusion Blue Pearl-Coat, Pitch Black Clear-Coat, White Noise Tri-Coat, Blood Orange Clear-Coat, and Bruiser Grey Clear-Coat - to make sure you can choose the one that is exactly what you are looking for.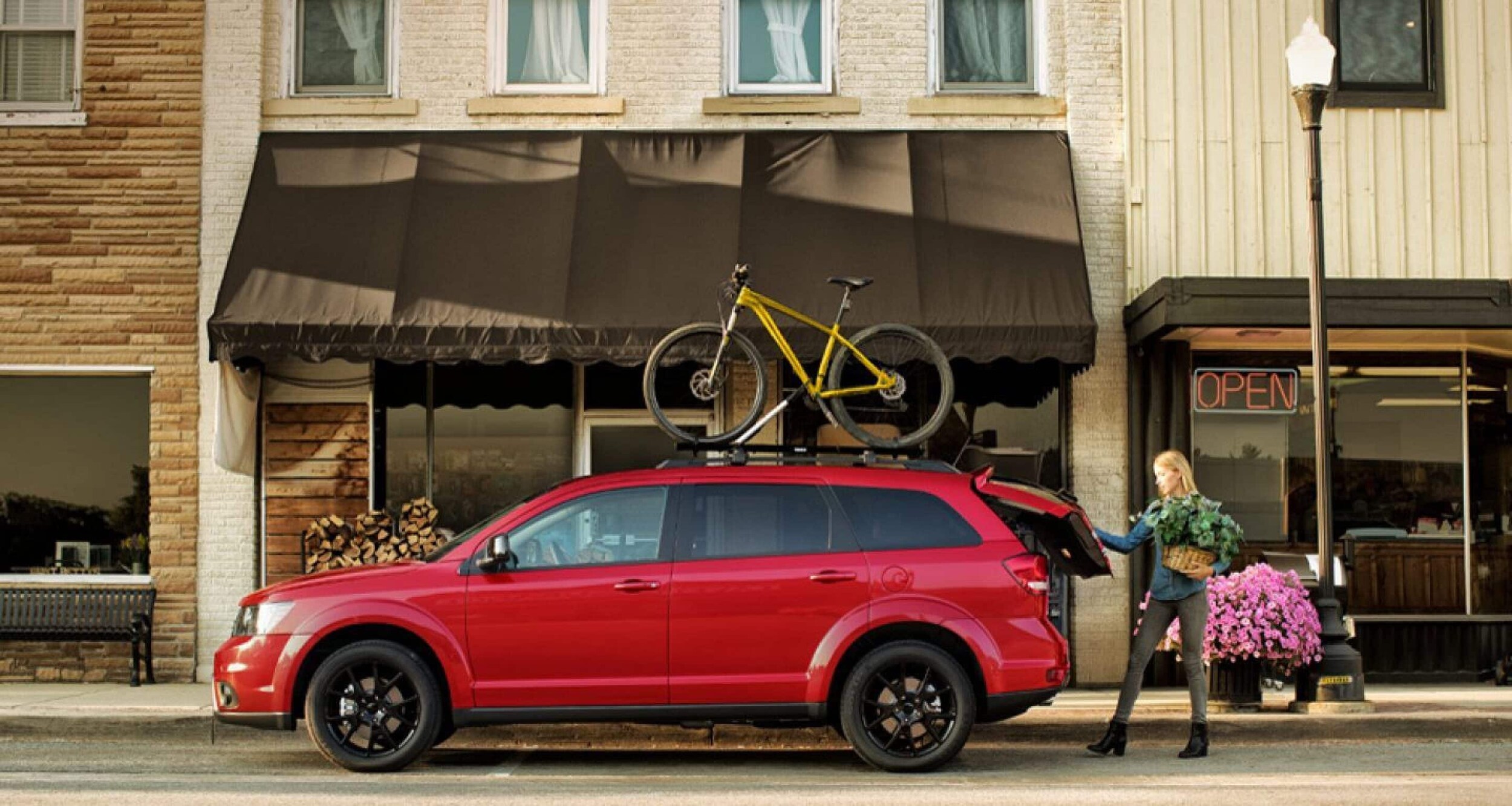 A Pair of Engine Options
To make the incredibly attractive price possible, the Journey offers a 2.4-Liter four-cylinder engine that makes 173 horsepower and 166 pound-feet of torque. It also comes with a four-speed automatic transmission that provides a smooth ride, but might fall slightly short of its competition. That doesn't make it inefficient though, it will still be able to bring you up to 25 MPG on the highway, getting more than 500 miles on a full tank before needing to stop for gas again. This makes for an enjoyable road trip with minimal stops (excluding bathroom breaks).
If you are looking for a more powerful engine, opt for the 3.6-Liter Pentastar V6 that can make 283 horsepower and 260 pound-feet of torque. The six-speed transmission is more lined up with what you are accustomed to seeing in modern vehicles, and comes with the innovative AutoStick option.
AutoStick is an interesting feature that falls somewhere between a manual and automatic while you are driving: don't get confused though, the Journey is only available as an automatic. AutoStick allows you to take control of the vehicle with manual shifting, but provides a little bit of assistance by downshifting if you don't do it in time, and can easily be swapped back to automatic at any time. It is a good feature for keeping a long drive interesting, or if you don't have much experience with a manual transmission and want to try it out.
Made for the Highway
The Dodge Journey does what it is designed for very well: practicality. The Journey might feel sluggish if you are driving it through a city, but once you are on a highway, you'll see where its performance shines. This model is made for the long haul, getting you to your job with a comfortable and smooth ride. If you are a huge fan of the most efficient model you can find, you won't mind sacrificing some of the power for the four-cylinder engine, but the V6 power is nice for a little more excitement to your routine.
Nothing Says Dependable Like a Good Warranty
If you are looking for the best value for your money, we've already mentioned the starting price, but another place to look is the warranty. Dodge wanted to make sure that you are getting into a model that you can rely on for every mile that you are behind the wheel, and keeping you covered if something goes wrong seems to be the best way to do that.
New Journey models come with a 3-year/36,000-mile basic limited warranty for bumper-to-bumper coverage on anything that could happen. Being transferrable is another huge benefit if you end up wanting to sell your Journey because it'll let you get a bit more for it. Everything under the hood will be able to stay in the best condition with a 5-year/60,000-mile Powertrain Limited Warranty (also transferrable) that covers the engine, transmission, and driving systems, and also includes coverage of towing to the nearest Dodge dealership.
Final Thoughts
While the Journey does lack in the performance department, that isn't what it is made for. It is made to get your kids where they need to be and provide you an efficient way to commute to work. The benefits of price and dependability heavily outweigh the performance aspect though, making this a vehicle that is right for many people.