The 2018 Ram 2500: Robust and Rugged
Throughout its extensive production cycle, the Ram 2500 and Ram Heavy-Duty series have provided drivers across the nation with the reliable, rugged performance they require to tow and haul with uncompromised confidence. While comparable heavy-duty pickup truck manufacturers pairing back on interior amenities to accommodate powerful drivetrains, Ram strives to continually offer uncompromised comfort while simultaneously outperforming the competition.
The 2018 Ram 2500 stands as no exception to Ram's unwavering commitment to design and craftsmanship. Boasting an array of trim levels, configurations and engine options suited to drivers seeking affordable, straightforward performance without additional frills, or drivers who wish to retain on-road composure and a variety of modern amenities to seamlessly fit their truck into daily life, the 2018 Ram 2500 stands as a formidable, versatile option for the modern contractor or adventurous family.
While Ram enthusiasts anxiously await the upcoming 2019 model-year Ram 2500, the 2018 Ram 2500 still stands apart from the current competition. Having proven itself worthy over a decade of production on its current platform, the 2018 Ram 2500 offers powerful performance and impressive interior comfort without compromise.
Formidable Performance: Powerful Engine Options
Available with three unique powertrains and two drive configurations (two-wheel or four-wheel drive), the 2018 Ram 1500 offers a variety engines to satisfy the heavy-duty requirements of any driver. While other brands and the light-duty truck segment increasingly relies on lean displacement, turbocharged engines to deliver power, Ram stands by the tried-and-true high-displacement engines that earned them their reputation over decades. For those well-acquainted with the Ram lineup, the available engines come as no surprise. However, they remain formidable contenders and provide exemplary specifications:
5.7-liter HEMI® V8
383 Horsepower
400 Pound-Feet of Torque
6.4-liter HEMI® V8
410 Horsepower
429 Pound-Feet of Torque
6.7-liter Cummins® Turbo Diesel Inline-Six
370 Horsepower
800 Pound-Feet of Torque
Standard-equipped with the 5.7-liter HEMI® V8, the Ram 2500 offers formidable efficiency alongside balanced performance. The 6.4-liter HEMI® V8 bolsters the performance of the 5.7-liter HEMI® by increasing displacement and retaining exceptional balance between horsepower and torque. While not true hemispherical cylinder heads, the HEMI® still features dual sparkplugs for improved efficiency and power.
For drivers seeking the impressive torque output of a diesel engine, the 6.7-liter Cummins® turbo diesel engine surges ahead of the competition with its massive 800 pound-feet of torque. Additionally featuring an impressive 15,000-mile service interval, the 6.7-liter Cummins® turbo diesel is as robust and reliable as it is powerful.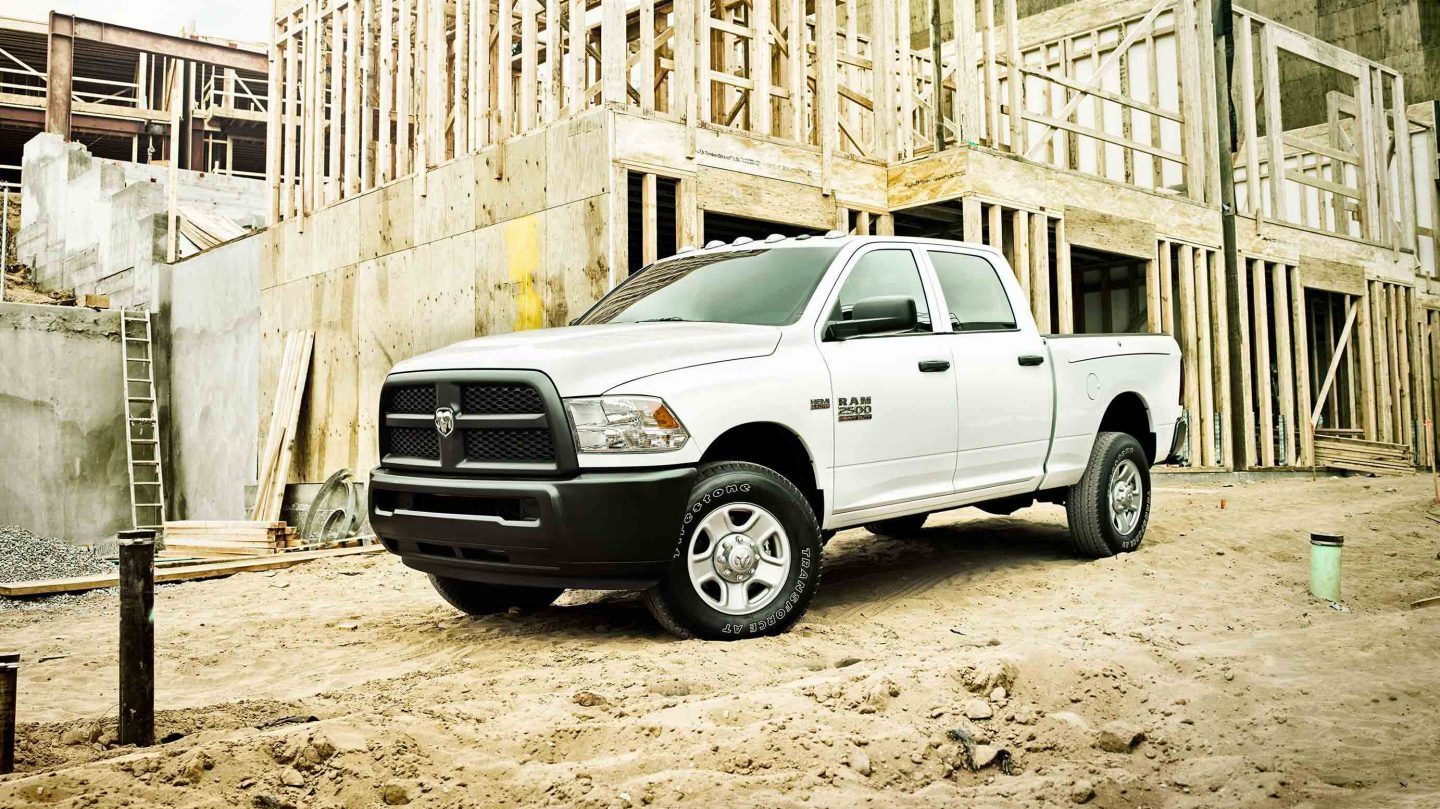 Ram 2500 Trim Levels
Renowned for including a vast array of trim levels and configurations available on nearly every model, the 2018 Ram 2500 upholds Ram's reputation for versatility. The current 2018 Ram 2500 trim lineup is:
Tradesman
SLT
Big Horn
Laramie
Laramie Longhorn
Power Wagon
Limited
Whether seeking the straightforward, no-frills option of the Tradesman trim, the off-road capabilities of the Power Wagon trim, or the plush luxury of the Limited trim, the 2018 Ram 2500 lineup features a model for virtually any lifestyle.
Ram 2500 Cabs, Beds and Color Configurations
The 2018 Ram 2500 features a variety of cab and cargo bed configurations to accommodate large quantities of cargo, or your friends and family with ease. The Regular Cab option features two doors with an eight-foot bed, while a four-door Crew Cab option offers either a six-foot, four-inch bed, or the aforementioned eight-foot bed. Lastly, the Mega Cab with four full-sized doors and maximal interior capacity comes available with a six-foot, four-inch bed.
Like the numerous configurations and trim levels available, the 2018 Ram 2500 boasts a formidable array of color options. From RV Match Walnut Brown to Delmonico Red, Maximum Steel to Blue Streak, and a variety of "Low Volume Colors" that require special ordering like Robin Egg Blue, the 2018 Ram 2500 offers impressive variety to suit the preferences of any driver.
Capabilities: Payload, Towing, and Off-Road Prowess
With every domestic pickup truck manufacturer vying for the coveted "best-in-class" accolade attesting their specifications, the 2018 Ram 2500 spares no expense in cranking impressive towing and hauling capabilities out of its impressive powertrains. Due to its high-strength steel frame, various suspension systems and optional equipment, the 2018 Ram 2500 in its various iterations offers ample towing and hauling specifications.
The 5.7-liter HEMI® V8 engine tows an impressive 13,890 pounds, and accommodates up to 3,060 pounds of payload. The 6.4-liter HEMI® V8 tows up to 16,320 pounds while fitting up to 3,990 pounds in its bed, and the 6.7-liter Cummins® turbo diesel tows a mammoth 17,980 pounds and hauls an impressive 3,160 pounds in its cargo bed.
Further amended with a class-exclusive five-link coil rear suspension, alongside an available Auto-level air suspension system for improved load leveling and on-road comfort, the Ram 2500 outperforms the competition. For drivers seeking impressive off-road capabilities, the Power Wagon trim comes equipped with an array of off-road equipment to further improve articulation and performance on loose terrain - providing specially-tuned performance to suit a variety of heavy-duty uses.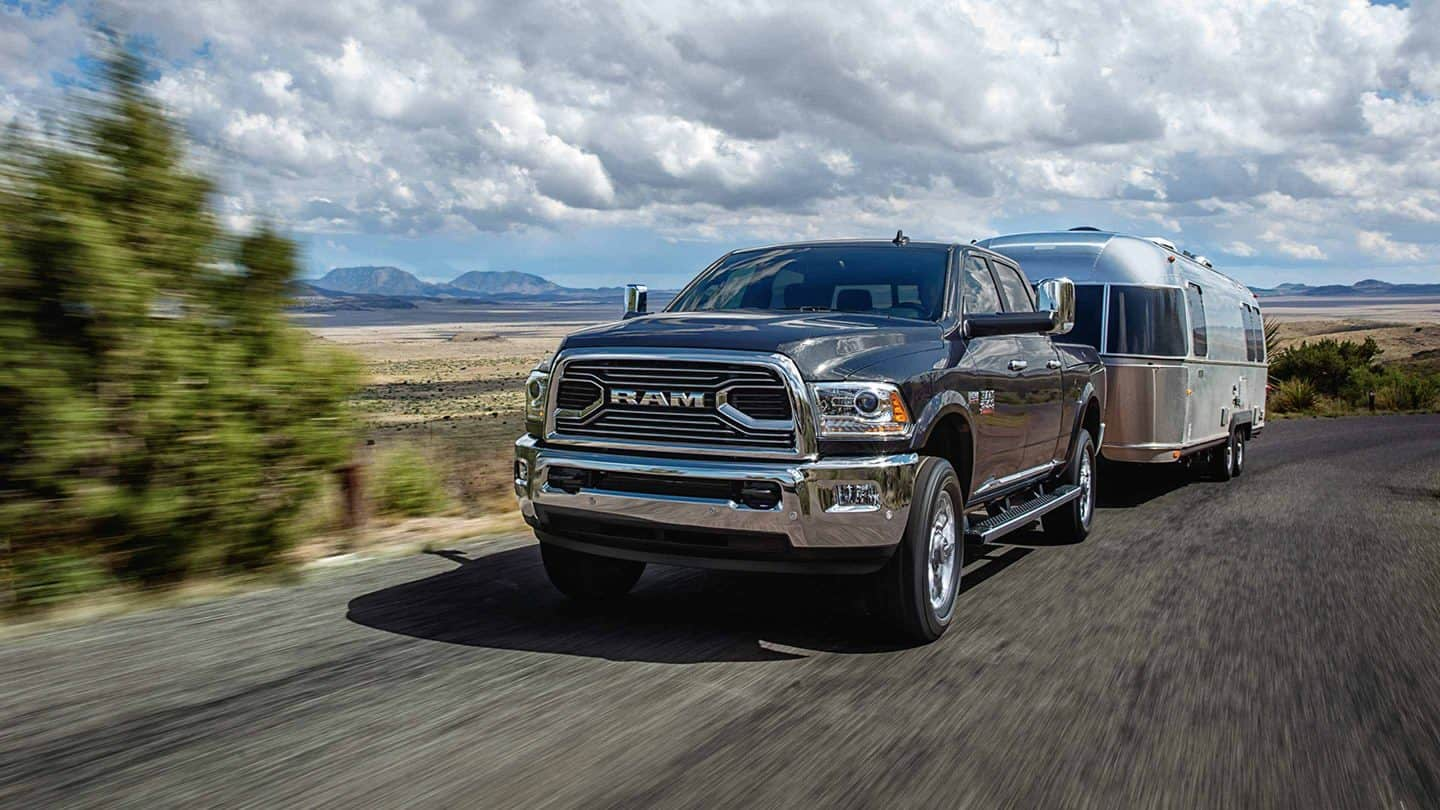 The 2018 Ram 2500: A Worthy Contender for Heavy-Duty Requirements
The impressive power and robust engineering of the 2018 Ram 2500 upholds its decade-long reputation for unwavering performance when faced with impressively difficult tasks that typically give pause to competing heavy-duty pickup trucks. When seeking exceptional interior comfort, best-in-class performance, and undeniable versatility, look no further than the 2018 Ram 2500.